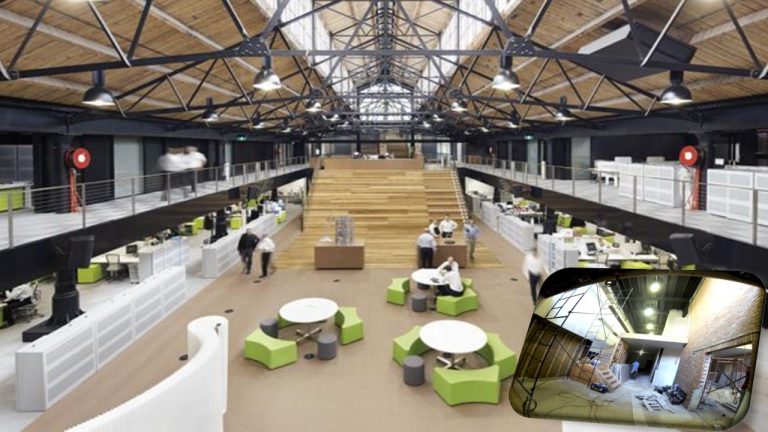 10 tips to ensure successful warehouse renovation

There are multiple reasons why you may need to renovate your warehouse. For example, it may be time to fix broken or damaged structures, upgrade the current racking system in your city, or expand the existing storage space to accommodate business growth.

If you're thinking about initiating a 'warehouse renovation' project but don't have an idea where to start, this blog is for you. We've highlighted some easy ways with which you can revamp your warehouse. Moreover, you can use this opportunity to improve the productivity and efficiency of your storage facility.

We have a lot to cover, so let's begin right away.
Tips to Do Your
Warehouse Renovation
the Right Way
1. Plan the Renovation
Like everything else related to your business, you should have a well-organized plan to ensure your renovation is successful. Compile a timeline of when you plan to start and finish the project, how you will manage orders amidst renovations, warehouse relocation options, your budget, etc.
Begin by recognizing all aspects of your warehouse that you intend to change. This may include replacing old warehouse carts, expanding storage capacity, updating racking systems, implementing the latest inventory management software, etc.
Next, consider any factors you feel are slowing down order fulfillment or hampering productivity. Of course, the best way to identify them is to survey or ask for employee feedback. 
2. Reassess the Layout
As a business owner, you may want to ensure that every bit of your warehouse is being used appropriately and workflows are not being compromised. Therefore, assessing the layout is one of the most essential aspects before starting the warehouse renovation. 
Begin by creating a list of things causing issues in the current layout. Are the loading and unloading docks too small? Are the aisles too narrow? Are areas designated for staff too congested? Can you add a mezzanine floor? Taking the time to address these questions will enable you to design a more efficient layout. 
Remodeled warehouses with optimized layouts can help: 
Streamline operations

Improve movement within the facility 

Boost employee productivity

Better access to inventory

Reduce order fulfillment times

Increase profitability 
3. Don't Sideline Specialized Warehouse Areas
If you're going to invest your valuable time and money into a renovation project, you want to make sure it's done right. Even though a majority of your warehouse is dedicated to storing inventory, other dedicated areas are equally as important. 
For instance, leave some extra room near the docking bay. This facilitates the intake of merchandise until employees can store them in their appropriate places. A similar area can be designated to store orders waiting to be shipped. 
4. Declutter Your Space
Thoroughly cleaning your warehouse before starting can make the renovation less stressful. So start by eliminating obsolete stock months before to free up more space or reduce the cost of reloading merchandise to another facility. Throw away any junk accumulating in the corners of your facility. After all, renovated warehouses should be clean and more efficient than before.
5. Evaluate the Existing Racking System 
You need to analyze the state of your warehouse equipment regularly. This helps optimize your warehouse as well as make sure it's safer, more productive, and more profitable.
Start by looking at the present condition of your racking system. After all, the shelves and racks undergo a great deal of wear and tear. If the strength of the structure has been compromised, you can repair the damaged or broken components. Or you could opt for a new racking system that supports your new layout design.
6. Optimize for Growth
While we are on the topic of evaluating racking systems, analyze whether it is offering optimal storage capacity. You need to know if your facility has adequate room for future growth.
If not, you may have to invest in a racking solution that allows you to store more goods in the same space. Customized shelves, bins, and pallet racks can make the warehouse use the current space better and ensure your warehouse operates optimally.
7. Inspect the Floor
Besides racks, shelves, and storage equipment, you need to look at the present status of the floor. Holes, cracks, and uneven surfaces can slow down workflows, destabilize racking solutions, and make your warehouse unsafe.
So clearing out the facility for renovations is the perfect time to redo your warehouse floor. Focus on making the floor even and skid-resistant. Coating it with an epoxy coating makes the surface easy to clean and maintain.
8. Make the Warehouse More Energy Efficient
A warehouse is huge, so no doubt it consumes a substantial amount of energy. Here are some key ways you can save on your electricity bill:
While lighting is essential for employee productivity and safety, opt for energy-efficient bulbs to help lower costs.

Paint the roof a light color as this helps to reflect heat during the summer, keeping the facility cooler.

Install insulated industrial doors and make them draught-proof

Insulate the roof.

Replace the existing conveyor motors with more efficient models that have variable-speed motors.

Consider installing solar panels.
9. Make Sure All Renovations Aspects Follow the Safety Code
When renovating your warehouse, make sure to adhere to the building, fire, and safety codes in your area. This ensures the renovation is completed safely and the facility remains a safe structure.
Fire alarms, sprinkler systems, and CCTV security systems are some of the basic safety measures every warehouse must have. However, look into additional aspects such as air quality, ventilation, flooring, loading capacity of racks, equipment maintenance, etc.
10. Leverage Automation Options
Automation is becoming increasingly popular in warehouses. A renovation is an ideal time to implement innovative technologies such as a warehouse management system. It can help streamline inventory management, ensure processes run efficiently, improve employee productivity, etc.
Or you may want to utilize an automated storage and retrieval system (AS/RS). Since machines will store and pick merchandise, you can create higher shelves, keep narrower aisles, and install less lighting.
Final Thoughts: Renovate or Relocate
A warehouse renovation offers the opportunity to make changes inside the facility to improve internal processes, productivity, and profitability. However, you should also think about how cost-effective such a project is. Is it worth remodeling your current warehouse – or should you relocate to a new location? 
There are pros and cons of both, therefore you need to assess these aspects to find which option is more suitable for you.
Over to You
If your warehouse is past its prime or you're thinking about expanding your business, you need to consider renovating it as soon as possible. Planning and preparing for a warehouse renovation ensures everything goes smoothly and all important aspects are broached. With the tips mentioned above, you'll be able to improve the storage capacity of your facility and reach your maximum productivity potential.
However, this is much easier if you partner with a company like Midwest Distributors LLC. We offer high-quality, affordable steel and wire fabricated products for your storage and shelving needs. Plus, we also provide comprehensive custom warehouse solutions to align with your business needs.
Contact one of our company representatives for more details about how we can facilitate your renovation project.