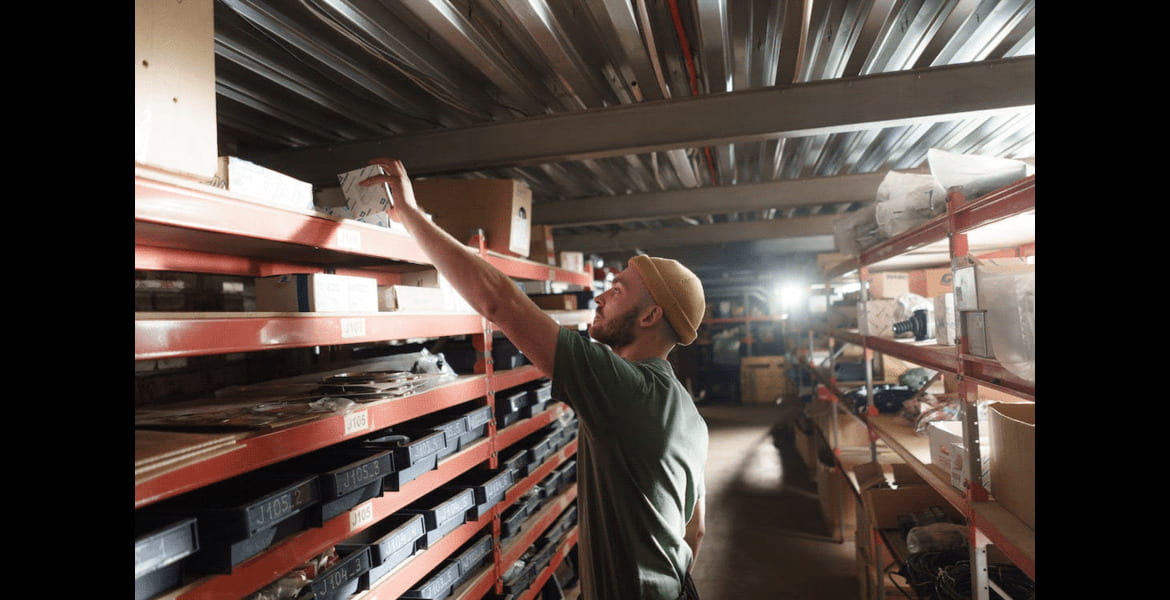 5 Warehouse Racking Tips for Enhanced Efficiency

Looking for tips on how to optimize your warehouse racking system? This article provides expert advice on improving efficiency, reducing clutter, and increasing safety in your warehouses by implementing the best warehouse racking tips.

No matter the size of modern warehouses, effectively organizing products and goods is crucial for successful operations. Warehouse racking is an indispensable component of this process, as it allows for maximum efficiency by providing easy access to items while efficiently using available space. Specifically designed racks tailored to product type allow warehouse teams to pick items in the most efficient way possible. 

Furthermore, structured storage is essential for item traceability, establishing a firm foundation of an organization that promotes profitable turnover and strong performance in today's competitive marketplace. 

It is commonly understood that warehouse racking is an excellent resource for businesses looking to maximize their storage potential with minimal space. Its design allows you to store items efficiently, using the vertical space of your facility that cannot be utilized any other way. This is similar to when buildings have multiple stories, allowing more people to occupy less ground space – but instead of people, you're storing goods and materials in an organized fashion. 
Top warehouse racking tips to manage your space effectively
Installing racks in your facility can increase inventory efficiency while keeping costs low and maximizing return on investment. If you are looking for practical warehouse racking tips, you have landed on the right page.  We have rounded up the five best tips for enhanced efficiency. So let's have a look.
Tip # 1: Plan for Optimization
When designing and implementing a warehouse facility, it is essential to seek the advice of a professional material handling company. With years of experience, they can lay out the facility using pallet racking to maximize space and optimize organization. Businesses must consider their suggestions as they know best how different types of pallet racking should be used for various business needs. Listen to them closely and communicate your expectations so that the professionals can create an effective warehouse designed just for you.
Remember that constructing a well-organized warehouse layout will make material handling and shipments flow smoother by ensuring that all warehouse items are easy to locate and access. The layout should include appropriate pallet racks, mezzanines, wire shelving, and other storage units depending on your warehouse item's specific needs. By implementing the right warehouse management tips, like planning for efficient storage layouts, you will indeed have an organized warehouse with faster shipping cycles.
Tip # 2: Plan the Budget
Regarding warehouse management, one important tip is not to settle for the cheapest racking solution. While cost is always a factor in warehouse planning, it is also essential to look at the "best solution cost," – meaning you should take the time to consider if your applied warehouse needs can be fulfilled by higher quality systems such as 'pallet flow' or 'push back' racking. 
Deciding on the right solution often requires enlisting help from warehouse design and installation specialists, but these services are worth investing in as they ensure that costs do not go to waste. Therefore, it is crucial to budget when looking at warehouse racking types. While cost management is vital, other considerations may require an increased financial commitment.
Tip # 3: Pay attention to the Layout
When designing an efficient shelving layout in your safety warehouse, you must create a plan to accommodate any floor space obstructions. To ensure you have a practical layout, draw your initial layout as if there are no columns or obstructions present and afterwards, draw the necessary columns or obstructions. It is best to be prepared for any challenges, such as awkward places to place columns due to existing infrastructure like lights, heaters, or drain pipes. 
Besides this, safety engineers may have additional requirements that must be considered. Ultimately safety warehouse tips include being flexible and having the ability to compromise when putting together the most effective shelving system.
Tip # 4: Maximize Space with Long Rows
No warehouse is too big or too small – even if you feel like all the space in the world is yours, there are some physical constraints to be aware of when planning your warehouse racking systems. One warehouse racking tip to keep in mind is that it's best to arrange racks as long as possible – avoid arranging them in short bursts, as this won't get you the most out of your storage. 
Additionally, while placing them along walls may create an open space, it can severely reduce storage efficiency and make warehouse operations difficult. Lastly, try to avoid setting up "L" shaped warehouse racking systems as they are much more challenging to navigate than linear ones and more tricky for forklifts when selecting pallets within them.
Tip # 5: Determine the Storage Efficiency
Storage efficiency can be a significant factor for warehouses to keep costs low and profits high. Knowing how much space a single pallet consumes, warehouse managers can make the most of their square footage when storing products. 
To calculate the exact amount of square footage a single pallet would take up, one should multiply the length and width of the storage unit in inches, then divide that total by 144 – this gives you the total square feet of the storage unit. By utilizing this calculation, warehouses can maximize their efficiency and keep costs down to remain competitive.
Verdict – there is no one size fits all rule here!
Regarding warehouse racking tips, know there aren't any numerical values to understand how to stock your products. How you choose to organize is of utmost importance for the efficiency of operations. Whatever works best for your particular items and sales cycle should be considered. 
Investing in a high-quality and up-to-date racks like that offered by Midwest Distribution is essential for the safety of your employees. An efficient and secure pallet racking system will provide your workers with the necessary support and helps ensure that products are not overstocked, potentially leading to accidents. So contact us today and get your space organized in the most efficient manner.